From Volunteer to 'Smiler'
You could say Brady Hishmeh is a *chip* off the old block. After years of supporting the organization and leading our community of student volunteers born with a cleft, you can now find Brady's smile on specially marked bags of Lay's potato chips.

CHIP IN TUESDAYS CONTEST
Chip In Tuesdays:

Take a picture with a Lay's smile bag and share it with @osstudpro for a chance to score an Operation Smile swag bag! Every "Chip In Tuesday," we'll post our favorite photo of one of our volunteers posing with a Lay's smile bag.


It's in the Bag: Be sure to follow @osstudpro and tune in on Chip In Tuesdays to see if your photo is chosen — you could receive an Operation Smile swag bag complete with an Operation Smile T-shirt, sticker, mini frisbee, ball and more!
WORLD SMILE MONTH
Chip In Tuesday is just one of the many fun activities we've put together this month — in fact, we had so many fun activities planned for World Smile Day on Oct. 2 that we've turned October into World Smile Month.
 
Join us on Sunday, Oct. 25, for a very special conversation with Lam Tran. He'll share his story of how he received care for his cleft condition — and how he now works as a program coordinator with Operation Smile to help people access care.
 
STUDPRO RECAP
Spreading Smiles Across Latin America: Student volunteers took part in the campaign "Regalando Sonrisas," or in English, "Giving Smiles." The goal was to make people smile by performing small acts of kindness. Our volunteers from all over the region took part in weekly kindness challenges, such as calling family members and surprising your teachers with a kind note — all while wearing masks and taking all necessary precautions. Throughout the whole month, medical staff, family, friends, neighbors, security officers, caretakers, and others received smiles from volunteers.

The purpose of the campaign was to demonstrate that, with little actions, we could say thanks and give a smile to the people that help us and make our life better. At the end of the month, campaign leaders Ximena Gonzales of Panama and Isabella Aguerri of Nicaragua tallied up campaign results: Panama was the country with the most participation in "Giving Smiles." Gabriela Chamorro from Nicaragua was the volunteer who was featured the most during the campaign, and Club Estundiatil Colegio Franco Boliviano from Bolivia carried out the biggest activity of "Giving Smiles."
We're so 'Happy': With Student Programs' support, volunteer Sophia Liu pitched a plan to create a line of cleft-awareness T-shirts to Pharrell and his nonprofit, YELLOW. She won their Summer of Innovation challenge and received $5,000 to start her line.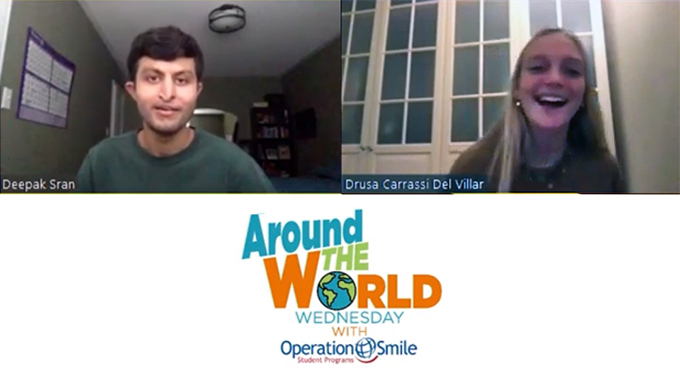 Around the World: In our first ever weekly YouTube series, we're bringing you a conversation between two student volunteers on two different continents. They discuss how they changed lives through Operation Smile — and how Operation Smile changed them. New videos premiere Wednesday at 7:30 p.m. ET.
 
STUDENT PROGRAMS PLANS AND PROJECTS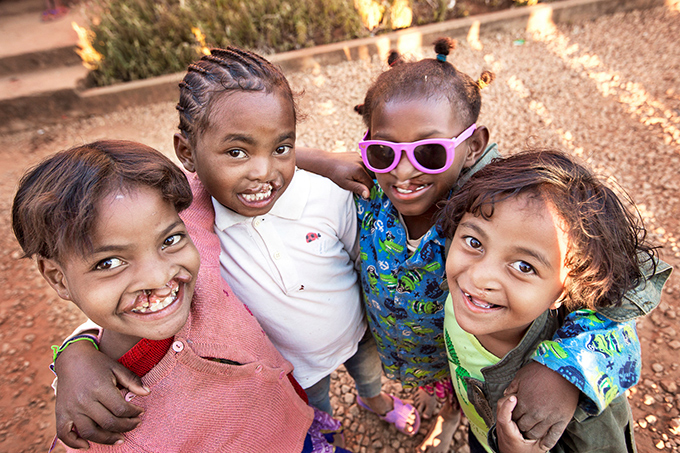 Let's Make More Smiles Possible
Start a Smile Fund: As medical missions have been postponed due to COVID-19, even more people are going to need our care — and that means we need your help now more than ever. Starting a Smile Fund is an easy, effective way to help us provide more surgeries.
Take on our Venmo Challenge: Our College Leadership Council is challenging clubs across the U.S. to see who can raise the most money through Venmo — Operation Smile's co-founders will even crash a meeting with the winning club! Get started here.
Step Up: Our undergraduate Step UP symposium is going digital this year, and it will take place Jan. 5-8! Registration will open at the beginning of November, but in the meantime, check out our site for details.
Put the 'LEA' in 'Leadership': While we wish we could gather our volunteers from Latin America for our annual Latinoamerica en Accion (LEA) conference, we can't go a year without connecting. LEA will go virtual this year — keep an eye on this page for details.
TOP SHOT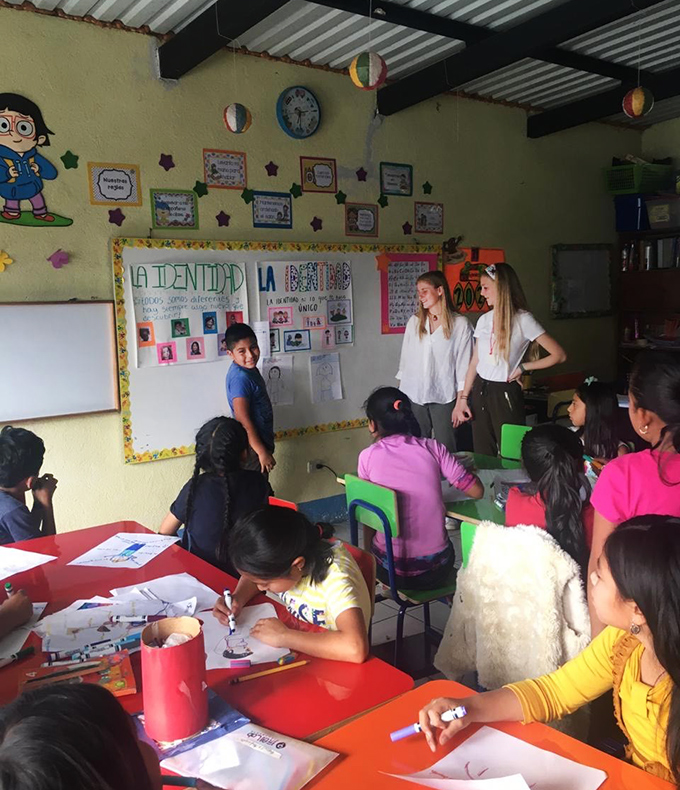 October is National Bullying Prevention Awareness Month. Before the COVID-19 pandemic took its hold on the world, student volunteers Drusa Carrassi of Italy and Anna Gans of the United States helped us pilot our empathy module in Honduras. Teaming up with classrooms, the team taught the elementary schoolers how to put themselves in others' shoes. While this module will be taught at future Mission Training Workshops, we can all take action now: Make someone smile today. (Photo courtesy of Drusa Carrassi)
ADVOCATES IN ACTION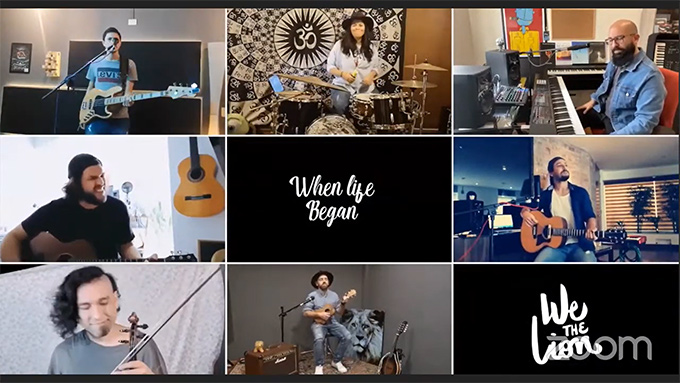 Peru: The student clubs of Operation Smile Peru organized a very successful virtual concert that raised more than $7,000. The concert was hosted on the Markham College platform and led by Antonella Arana, president of Markham College Club. Along with all the presidents of the clubs, Antonella sold raffles, got in-kind donations and got the participation of more than 10 national artists. Regional student leaders Nicole Aphang and Belén Matos supported the event and encouraged the wonderful presidents of each club.
California: The club at Fresno State started the school year on the right track and raised $2,640 with their virtual 5K.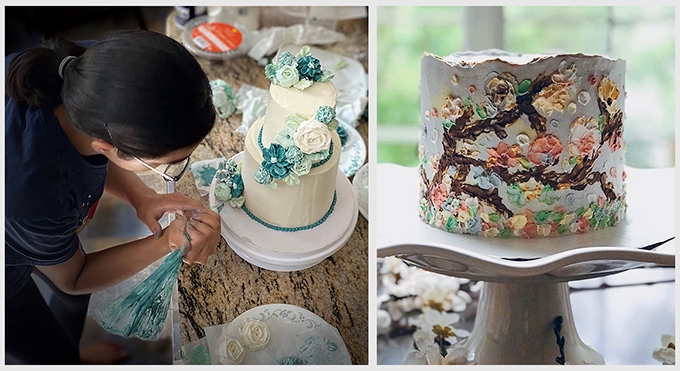 Anushka Makkar isn't just co-president of the club at Ridge High School — she makes and sells her own cakes! For one month, she decided to donate 100 percent of the proceeds to Operation Smile. She had people buy cakes by donating straight through her Smile Fund page. In total her cakes earned about $500 to help fund surgeries!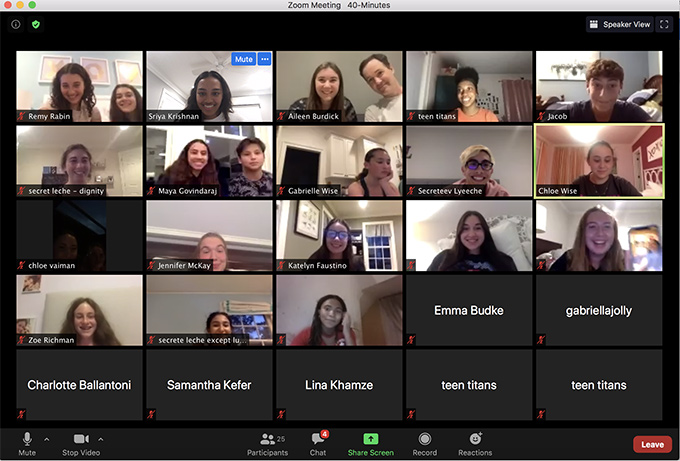 New York: The Rye Country Day School club ran a virtual trivia night. Their main goal was to spread Operation Smile's mission to others in our community while also raising money to pay for a surgery. They were able to gather 30 friends, family, and peers for a fun night. In the end, they were able to raise $900, exceeding their goal! They even had people asking for more ways they could get involved with Operation Smile.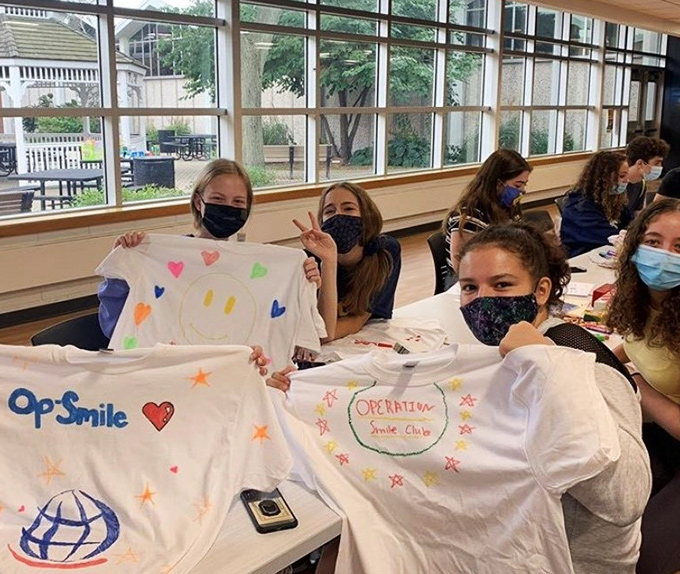 Illinois: The new club at Glenbrook South High School organized an event to raise funds and give back through service projects. They raised more than $250, made two dozen T-shirt hospital gowns and wrote cards for our patients! They also received donations for Smile Bags to send out to our mission countries!
ISLC SCHOLARSHIP FUND
Investing in the Next Generation
In every edition, we share the story of a student whose ISLC attendance helped them grow. Today we introduce you to Yanik, and we ask that you consider contributing to our ISLC Scholarship Fund. You can help pave the way for students from 12 low- or middle-income countries to attend our next global gathering of students.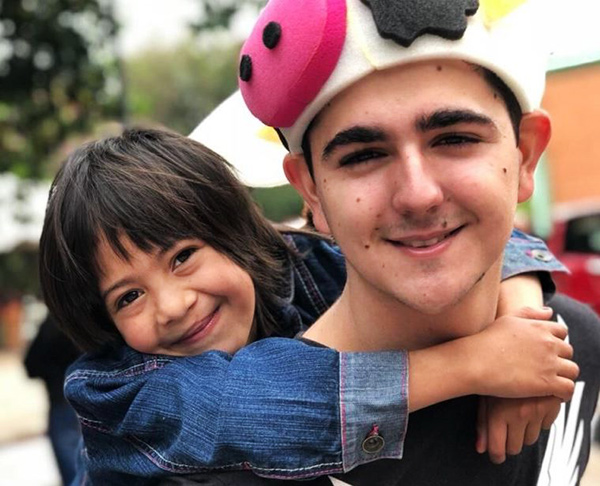 It's not every week you find yourself surrounded by more than 350 international student volunteers who want to change the world.
This is where Yanik Sitta found himself when he attended Operation Smile's International Student Leadership Conference in 2019, which took place at Wake Forest University in Winston-Salem, North Carolina.
Though it took him almost a full day of traveling from Paraguay to the U.S., he had never felt so empowered and so comfortable once the conference started. He was happy to be surrounded by people who, like him, are working to make a difference.
They even got a chance to do just that at the conference: For their annual service project, ISLC participants made candy bags for the nurses and doctors serving the craniofacial center at the University of North Carolina at Chapel Hill.
"It was amazing to see how so many people from so different countries were excited to be in one project helping other people that they don't even know," Yanik said. "I felt it (was) really powerful."
A Partnership to Smile About
The official sponsor of the @osstudpro Snapshot is Stacked By Suzie/
Just like Operation Smile, Stacked By Suzie is a Virginia Beach-based family venture: Suzie and her daughter Talia create and curate their selection of affordable and on-trend jewelry. That includes Operation Smile-inspired earrings.

Operation Smile Student Programs
3641 Faculty Boulevard
Virginia Beach, VA. 23453
1-888-OPSMILE

UNSUBSCRIBE
Stacked By Suzie's financial support of Operation Smile is not influenced by the purchase of any Stacked By Suzie product and this promotion does not constitute an endorsement of any Stacked By Suzie product by Operation Smile and its affiliated brands. For more information about Operation Smile Student Programs, please visit https://studentprograms.operationsmile.org.