Thank You!
From our pre-pandemic conferences to our landmark COVID-19 service project, Serving Smiles, we've spent 2020 learning from each other, leading in our communities, and leaning into opportunities to do even more good. Thank you for being a part of our global family and making smiles possible.
STUDPRO RECAP
Go 'Around the World' With Us: Featuring two powerhouse student volunteers from two different countries, our weekly YouTube series offers a heartfelt take on what it means to be a part of Operation Smile.
News to Smile About: On World Smile Day back in October, we challenged clubs across the U.S. to start a Smile Fund and help make more smiles possible. We're proud to announce that you've already raised more than $18,000! As each surgery can cost as little as $240, you could say you've helped make surgery possible for more than 70 people!
From Patient to Program Coordinator: Lam Tran from Vietnam shared his powerful (and full-circle) Operation Smile story with us in October. In case you missed it, here's a link to his story and a recording of our gathering with Lam.
STUD PRO PLANS & PROJECTS
Get Ready to Step UP
We invite undergraduate student volunteers from around the world to join us for our third annual (and all-virtual) Step UP Symposium. This conference is a deep dive into the mechanics behind Operation Smile — and a call to action for student volunteers of all majors.
Why Step UP? As a sophomore studying speech pathology, Allie Pierson learned more about her future career during Step UP, when a volunteer speech pathologist discussed her role on a medical mission. "It just helped me become more passionate toward that job," Allie said.
 
Wearing a Smile: If you've been to Step UP, you already know longtime volunteer Timmy Zhu — but did you know he's on a mission to wear an Operation Smile T-shirt every day for 1,000 days? (And he's only got about 200 days left to go!)
 
ADVOCATES IN ACTION
Egypt: Let's give a big round of applause for our club in Egypt: Their video won second place in YLF's national social media contest and qualified them as one of the top student activities in the country. They also won a 5,000 cash prize awarded by the country's minister of higher education!
Italy: Students are getting creative for a cause! For Halloween, 14-year-old Giorgio had the idea to ask for a donation for Operation Smile instead of candy. As the pandemic made it difficult to go door-to-door in person, he decided to write a letter to all his neighbors. This caught on with his peers, fellow 14-year-olds Benedetta and Flaminia. They baked cookies and wrote a letter to each neighbor, sharing our cause and asking everyone to get involved. Their sweet fundraiser has made two surgeries possible!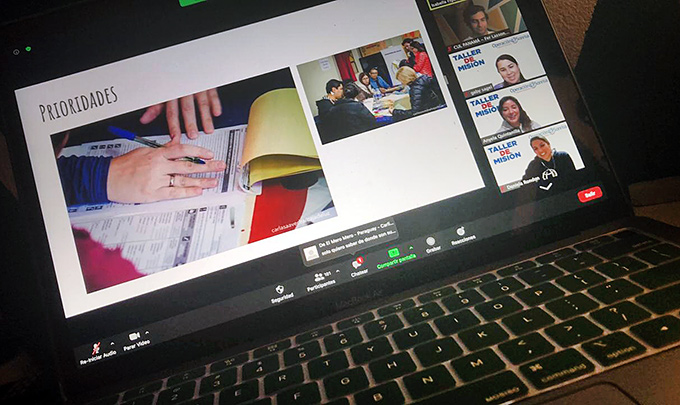 Virtually across Latin America 1: Throughout the month, two to three posts were uploaded each week with information on history, geography and local Operation Smile, from each country in Latin America. About 250 people attended two mission workshops where students learned about , we learned about the screening process as well as the protocol of both local and international missions. For some fun, three cooking workshops were also held.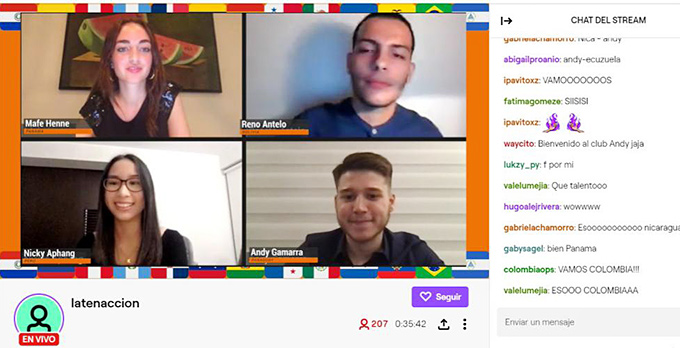 Virtually across Latin America 2: We hosted 14 exchange groups led by two CUEL student leaders; each exchange group consisted of eight clubs (from schools and universities), and all their members were invited to participate in two video call meetings throughout the month. This way, volunteers from all around Latin America got to meet each other and discuss challenges they had within their country due to the pandemic. Later on, the participants of the exchange groups shared ideas on possible solutions.

Virtually across Latin America 3: To close this month, we had an amazing international party that was was broadcast live on a Twitch page so all our volunteers could see it. Additionally, every country was on their own Zoom meeting (at the same time) so that they could participate in the party together. The party was based on a trivia competition between countries. The competition consisted of a Kahoot, a round of quick questions and a Jeopardy-style game. The winner of the night was Panama, and there were more than 150 participants.
South Africa: We want to celebrate Zaria Adam and her dedication to making smiles possible. "As a South African, born in Cape Town and currently residing in Germany, I continuously explore ways of connecting with my community back home. I have chosen Operation Smile, because it not only gives me the opportunity to create awareness, but also support the provision of life-changing surgeries for children born with cleft palate or cleft lip in communities."
Virginia Beach: Virginia: Sink It For Smiles: Powerhouse clubs from Cox, Cape Henry and First Colonial high schools teamed up for a putt putt golf event at the Virginia Beach Oceanfront — and they raised $750!
New Jersey: Our Interact Club at Monroe High School has adopted Operation Smile as its international project. Shriya Singh, the vice president of the Interact Club, tutored kids and charged a donation to Operation Smile — and she made a surgery possible!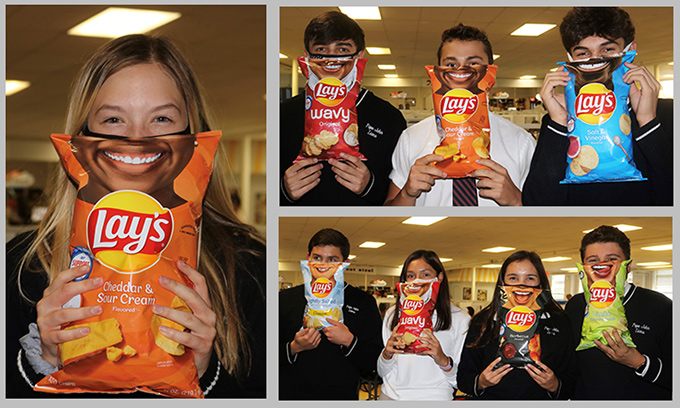 New Jersey: On World Smile Day, the Pope John XXIII Regional High School Club wanted to raise awareness for Operation Smile where everyone could chip in. Wearing their masks, more than 100 students took turns having their photo taken with the Lays chip bags to celebrate World Smile Day!
Florida: North Broward Preparatory High School in Coconut Creek started their "Wear a Smile Share a Smile" fundraising campaign, where students buy a packet of two pins. They will wear one pin and give the second pin to a stranger, friend, lowerclassmen, or someone who just needs a smile. Mia, the club president, is currently a junior and worked with her school over the past couple of months to get the club approved.
New York: Thanks to Manhattan College's apple cider donut sales, the club raised $321 — that's enough to cover a surgery!

New Jersey: To raise funds and awareness for Operation Smile, the Pequannock Township High School Operation Smile club joined their town's annual Hoedown event on Oct. 17. Club members decorated a booth and sold masks, took photos, had a coloring station and more, all to support Operation Smile's mission to provide more surgeries to our patients born with cleft conditions. Through these efforts they raised $300, enough to fund a new smile!

And one more thing: Just in time for the holidays, you'll be able to buy your friends and family Operation Smile branded shirts, hats, socks, jackets, backpacks and more. We'll soon be announcing the online grand opening of the Operation Smile Shop. Proceeds will help fund surgeries for children all around the world, and you get to show your Operation Smile pride.
ISLC SCHOLARSHIP FUND
Investing in the Next Generation
In every edition, we share the story of a student whose ISLC attendance helped them grow. Today we introduce you to Ximena, and we ask that you consider contributing to our ISLC Scholarship Fund. You can help pave the way for students from 12 low- or middle-income countries to attend our next global gathering of students.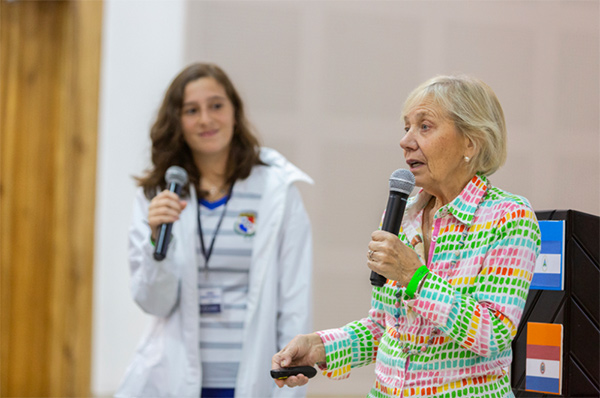 Before coming to the 2018 International Student Leadership Conference, Ximena from Panama knew that Operation Smile provided free surgical care for people born with cleft conditions.

"But what I didn't know was that they were literally preparing the next generation of leaders," she said.

In fact, her time with Operation Smile has inspired Ximena to choose a career in the health care field.
A Partnership to Smile About
The official sponsor of the @osstudpro Snapshot is Stacked By Suzie!
Just like Operation Smile, Stacked By Suzie is a Virginia Beach-based family venture: Suzie and her daughter Talia create and curate their selection of affordable and on-trend jewelry. That includes Operation Smile-inspired earrings.

Operation Smile Student Programs
3641 Faculty Boulevard
Virginia Beach, VA. 23453
1-888-OPSMILE

UNSUBSCRIBE
Stacked By Suzie's financial support of Operation Smile is not influenced by the purchase of any Stacked By Suzie product and this promotion does not constitute an endorsement of any Stacked By Suzie product by Operation Smile and its affiliated brands. For more information about Operation Smile Student Programs, please visit https://studentprograms.operationsmile.org.